Posted On: July 5, 2017 by First Bank of Alabama in: Employees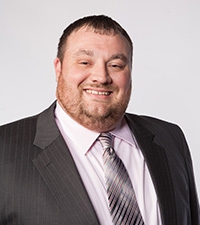 Some exciting changes are taking place as we prepare for the pending acquisition of Bank of Wedowee! As we have previously announced, Pam Stephens has joined the Loan Department, and Rob Skelton has moved over to our Lincoln branch…so, Sam Whorton just got a little closer to home and has transferred to our Munford branch to serve as Branch Manager and Loan Officer.
Sam has transferred from our main office in Talladega, where he served as a Retail Loan Officer since joining First Bank of Alabama in April of 2016. The experienced banker and loan officer began his career in 2004 after graduating from Jacksonville State University. He is a 2015 graduate of the Alabama Banking School, and is very active in the community, serving on the United Cerebral Palsy board and the community investment committee of United Way. Sam and his wife, Dana, have three children; Cooper, Anna Kate and Jase.
"I'm looking forward to the opportunity to be a part of the Munford community," said Whorton. "This transfer has gotten me closer to my roots in Calhoun County, and I'm excited for the possibility to reach out and expand business into that area. I want to thank (President and CEO) Chad Jones for giving me this opportunity as Branch Manager of our Munford location."
Q&A with Sam:
What are some fun facts about yourself?
I am an only child, and I can snap a pencil in half with my bare hands.
What is your favorite quote?
"It is what it is."
What are your favorite colors?
Orange and blue…I'm an Auburn fan.
What do you like most about working for First Bank of Alabama?
Besides our customers…I like my co-workers. We are all a big family and work to make sure we all succeed.
What do you enjoy doing in your spare time?
Spending time with my family at the lake, playing softball and golf, and coaching or cheering on my kids in activities they have going on.