Local Lending Solutions for Growth!
For most businesses, it's not a matter of if, but when you'll require a loan of some sort. And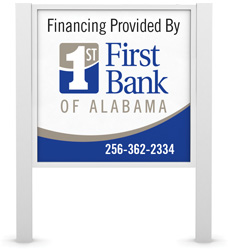 when that time comes, you don't have time to deal with the frustration that comes with a large out-of-state lender.
First Bank of Alabama's community-centric lending solutions put the focus on your needs:
All loan decisions are made right here in Talladega County
The same lenders you work with live right down the street – we know LOCAL!
You can always expect competitive rates, flexible terms and the best customer service
Contact a business lender today to see which of our business lending options best fits your needs!
---
Working Capital
Jumpstart your business with the capital you need! Use the funds to pay for nearly anything to get your business up and running. We'll help structure your repayment plan so it fits your budget and doesn't hinder your business's rise to success.
---
Equipment Financing
The equipment your business uses dictates your quality. Old, finicky equipment doesn't produce the same quality and can slow down your production. We help make it easy to purchase new equipment to ensure your business stays efficient.
---
Business Real Estate Loans
Looking for your company's first home or needing to relocate? Our flexible real estate solutions provide the funds you need with competitive interest rates and ideal terms and options. We're here to help your business find a home no matter what!
---
Letters and Lines of Credit
Don't let lean times bring you down. A line of credit for your business allows you to continue making the essential purchases you need even if your cash register isn't full. Plus, our lenders work with you to establish a unique plan for your business.
---
Facility Construction and Expansion
Sometimes you just have to build your ideal workplace, and sometimes you need to knock a few walls down for expansion. In either case, we can help with any financing your business construction or expansion project requires.
Our communities grow with your financial success. Get free online financial training with us.
Get Started