Making a Difference in Your Community
At First Bank of Alabama community involvement has always been a priority. Aside from serving the banking needs of the local communities, our employees are actively involved in a number of charitable efforts every year.
Visit most Fridays and you may find our employees dressed a little more casually, or even holding a bake sale for many of our adopted charities including local schools, Relay for Life, American Heart Association, Breast Cancer Awareness, ARC of Talladega and other local and nationwide charities.
The First Bank of Alabama workforce is always eager to support the bank's charitable giving campaigns. Our employees believe in investing themselves in the communities where they live, work and send their children to school and lending their neighbors a helping hand.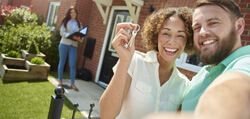 Dream Loans for Dream Homes
We make the process of purchasing a home or refinancing your mortgage easy!
Learn How!
Watch Chip Cards Video
Watch Chip Cards Video
Chip Cards
We now offer EMV chip-enabled debit cards for maximum security from theft and fraud.
Watch Video
Our communities grow with your financial success. Get free online financial training with us.
Get Started