Posted On: July 5, 2017 by First Bank of Alabama in: Employees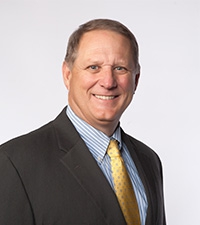 Some exciting changes are taking place as we prepare for the pending acquisition of Bank of Wedowee! As we have previously announced, Pam Stephens has joined the Loan Department, so Rob Skelton has moved over to our Lincoln branch, where he serves as Branch Manager and Loan Officer. Rob is a long-term resident of Lincoln, so transitioning has been easy.
Rob has transferred from our Munford branch, where previously served as Branch Manager and Loan Officer since joining First Bank of Alabama in 2015. The banking veteran has over thirty years of experience, specifically as a loan officer and branch manager. He began his career in 1986 after attending Jacksonville State University. Rob is a graduate of the Retail Banking Development Program, a program designed to increase knowledge of banking policies and procedures with an emphasis on business lending. In his spare time, Skelton enjoys fishing and spending time with his family. He and his wife, Denise, have two sons and three grandsons; Braxton, Brayden and Bryson.
"It is hard to describe how excited I am to be back home in Lincoln," said Rob. "I have lived here for over twenty years and my grandchildren all go to school here. I am looking forward to becoming an integral part of one of the fastest growing communities in the state of Alabama, and First Bank of Alabama and I are here and willing to help Lincoln continue to grow and prosper. I invite all of my current and former customers to stop by and see me."
Q&A with Rob:
What are some fun facts about yourself?
I am a football official in the Southeastern Conference. I love to fish. I also love to cook, and I would like to take some culinary classes to really learn how to cook.
What is your favorite vacation spot?
I really like to travel, and I have been fortunate to have traveled to many places in our great country, but when it's all said and done, the "Redneck Riviera" is probably the best vacation locale in the world.
What is your favorite product or service offered by First Bank of Alabama and why?
We have so many great products it is hard to pick a favorite. I think the best "product" we have is our bank family. We have a great staff at every location, and they are all focused on helping our customers.
Which came first, the chicken or the egg?
Does it really matter which came first? I like to eat both.
As a child, what did you want to be when you grew up?
I wanted to be a professional football player when I was a kid. I found out I was too small to be a professional player, but I made up for it by being slow.