Posted On: July 5, 2017 by First Bank of Alabama in: Employees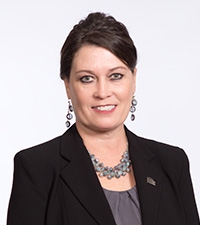 Some exciting changes are taking place as we prepare for the pending acquisition of Bank of Wedowee! Pam Stephens has returned to the main office in Talladega to join the loan department. She will play an integral role in managing our loan portfolio as it rises to $270 million. Pam's extensive knowledge of loans and impressive experience within various departments of First Bank of Alabama, including her experience as a Loan Officer, make her a huge asset to the loan department.
"I am thrilled Pam has joined the Loan Department," said Cary Robbs, Loan Department Supervisor of First Bank of Alabama. "She's a hard worker, very dedicated and extremely knowledgeable. Those traits, along with her experience in loan administration and as a Loan Officer, will benefit our team tremendously."
Get to Know Pam:
She joined First Bank of Alabama in 1985 after graduating from Lincoln High School.
Her favorite color is red, and she's an Alabama fan.
She has a dog named Kate.
In her spare time, she enjoys fishing, sewing, cooking and shopping.
She and her husband, Greg, have two sons; Gregory and Mathis.
She has been very active in the Lincoln community, volunteering and participating in several activities and civic organizations; including Kiwanis Club (Vice President) and the PTA at Lincoln Elementary (Treasurer and Secretary).