Posted On: October 25, 2017 by First Bank of Alabama in: Employees
Published with permission from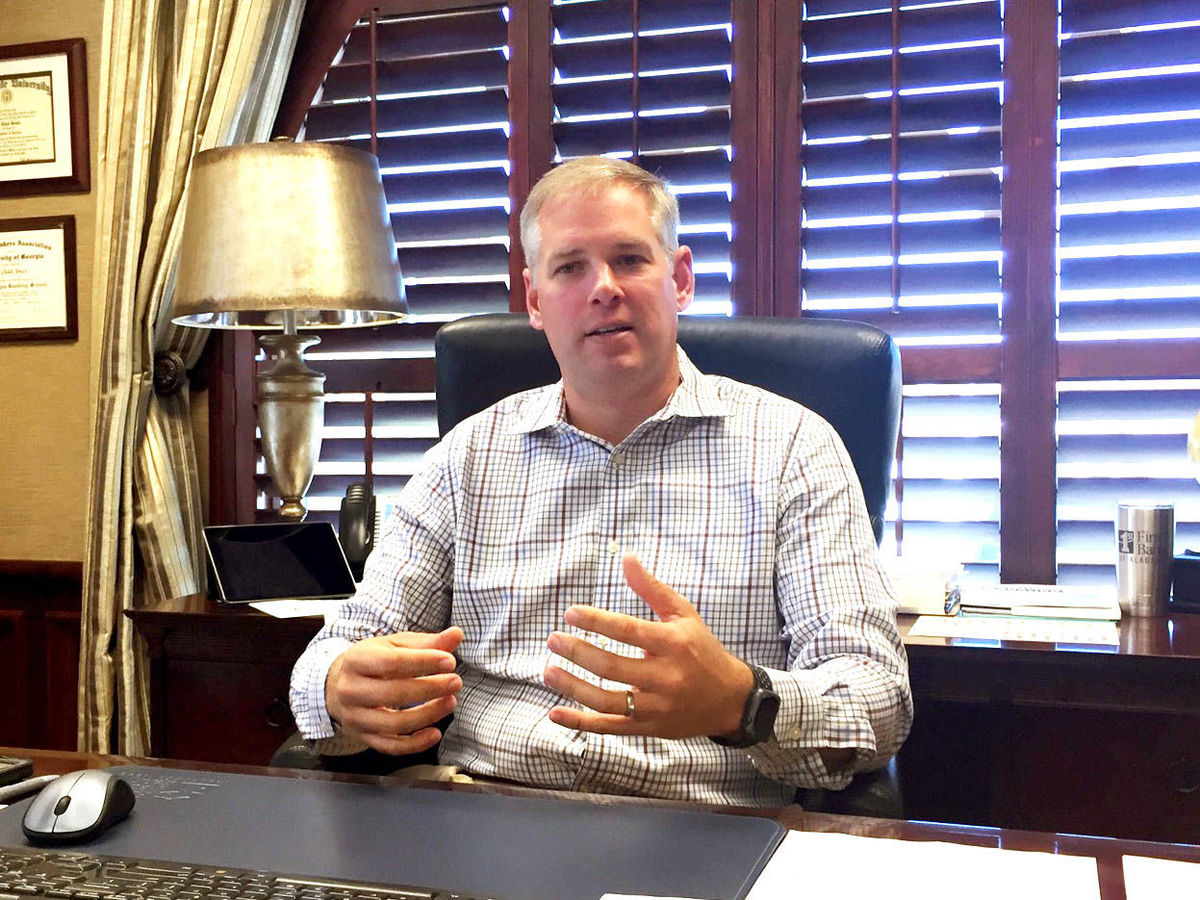 Anthony Cook, Daily Home Editor, acook@dailyhome.com
TALLADEGA -- First Bank of Alabama has expanded from three to six to seven locations just this year, and has grown from a lending institution with $297 million in assets in 2007 to $400 million in assets in 2017 before acquiring Bank of Wedowee, to $540 million after the acquisition.
The bank now has locations in Talladega, Lincoln, Munford, and most recently in Wedowee, Woodland, Roanoke and soon to be Ashland.
As the leader of the oldest continuously operating bank in the state, President and CEO Chad Jones makes sure the institution's character is not defined by the size of its resources, but by the size of its heart.
The Daily Home sat down this week with Jones for a conversation about how a hometown bank has found such longevity over the decades, and such unprecedented success in recent years.
DH: How do you explain First Bank's success, especially when so many larger banks closed or consolidated on the heels of the Great Recession?
Jones: Our success comes from being the strong, conservative, stable institution we've always been. Capital is king. We withstood the storm of the financial crisis because we had capital. But just as importantly, we had the confidence of our investors, our employees and our customers. There's a lot of buy-in.
If you're not growing, you're going backwards. Our financial performance allows us to invest in technology and security that allows us to be a safe and sound institution.
Customer service is a must. It's hard to have 100 percent satisfaction, but we strive daily for that. We know there are always points we can improve upon.
Our main focus is right here -- the communities we serve. That money stays here locally in the form of donations, sponsorships, community needs … We give back to the community.
DH: How does a community bank have multiple expansions in one year?
Jones: We were looking for an opportunity to expand into rural areas, and I went to a friend. I knew Mitch Key was able to turn the Wedowee bank around, and we had a conversation. They had more consumer loans, and we had more commercial. It became a positive. Purchasing them gives us more diversity in our loan portfolio. We know the institution, and we know their customers. If your cultures match, you'll have a successful merger. Both our cultures are customer-based and service-oriented. We see our banks as being similar. We both have long-termed employees, which means stability. There's integrity in both institutions, and we're compassionate toward our customers.
Bank of Wedowee didn't have some of the technology we have, so it was value-added for their shareholders. As a cash sale, they benefitted immediately. Long-term, we're able to benefit through natural attrition and look for efficiencies.
We had a base of customers in Clay County without a presence there and we thought it mindful to be a midway point between our Randolph County and Talladega county locations.
DH: As a native of Talladega, how do you be Chad Jones to this community through First Bank of Alabama?
Jones: I learned years ago that first of all, banking is more of a service, a necessary complement to the economic cycle. You want to be impactful in your industry or business. You have to give back. That's our number one thing.
DH: What's an example?
Jones: We have a financial literacy section on our website. At some point, schools stopped teaching people how to write checks, balance their checkbook, what's a credit score, what's an IRA, how to buy your first home, etc. We want the community to see that we want to be a strong pillar in this community. When you have people believing in people and have relationships that extend outside the bank, that's where successful alliances are formed and successful ventures are developed. I'm more of a relationship guy. I try to involve everyone here. I can't do anything without the employees we have. I tell them that I don't want your job because I can't do what you do as well as you do it.
The Good Book says don't be prideful, but I'm very proud of this institution. We have the right people in the right place doing the right thing.
DH: What's in store for the future of First Bank of Alabama?
Jones: We've grown from three locations to six locations to seven locations, all within a one-quarter period. The next step is to digest what we've just undertaken and be the best we can be with what we've been given. We're building a billion-dollar infrastructure because we see opportunity in the banking industry in Alabama. I always say: Once you get home to First Bank of Alabama, you're not gonna want to go anywhere else.